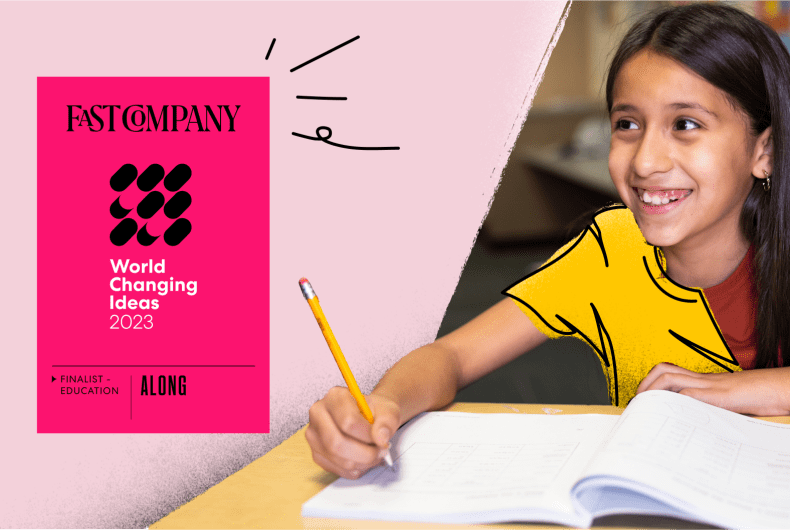 When our community needed a way to connect with students three years ago, we delivered. Amidst a world shutdown, we helped solve the teacher-student connection gap by building Along as a solution for bringing teachers and their students together. Along began as a way for teachers to support maintaining relationships through remote learning and has now become a trusted partner in making their students feel seen and understood.
Some might call this "world changing." And in fact, that's just how we're being described. We are thrilled to share that we have been named a World Changing Idea finalist by Fast Company! 
We are excited to add World Changing Ideas to other awards we have received this school year, including a Special Mention on TIME Best Inventions 2022 and Common Sense Best Tools for Back to School 2022. Along was chosen by Fast Company from over 2,200 entries celebrating sustainable designs, innovative products, bold social initiatives, and other creative projects that are changing the way we work, live, and interact with the world. 
"When we set out to build Along, we imagined the transformation that could take place if every student felt connected to at least one educator at their school. If students feel understood, they bring more motivation and engagement to the classroom and are more likely to bring a positive focus to their academics" said Samia Zaidi, Along's Program Director. "It's an honor that Along has been recognized as a World Changing Idea. We hope that we are able to make a difference in the lives of students and educators on a daily basis."
We'd like to thank our Along community for helping us attain this honor. It's outstanding educators like you, working to build and strengthen teacher-student relationships, who continue to inspire us. Your stories about the power of connections tap into the heart of our tool and why we do what we do. Celebrate with us by sharing your Along experience on social media using hashtag #FCWorldChangingIdeas
Fast Company's World Changing Ideas Awards showcase some of the world's most inventive entrepreneurs and forward-thinking companies that are actively tackling global challenges.  Browse the full list of winners here.